News
The Eastman Theatre, Fulfilling George Eastman's Dream
A stunning new 200-page hardcover book celebrates the history and renovation of the Eastman Theatre. Authored by noted historical writer Elizabeth Brayer and designed by Kathryn D'Amanda, the book is richly illustrated with period imagery as well as breathtaking new photographs by award-winning photographer Andy Olenick. Available through the Rochester Philharmonic Orchestra
web site
and other major retailers.
Historic New York Published
Five years in the making, the creative team of photographer Andy Olenick and author Richard O. Reisem, has announced the publication of
Historic New York: Architectural Journeys in the Empire State
. The fourth book by this team, Historic New York is the most ambitious effort to date, both historically and geographically. It covers over a hundred publicly accessible sites throughout the state with architecture whose origin ranges over four centuries.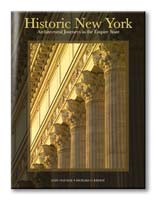 The book begins in Long Island, home to some of the nation's finest estates, and meanders westward, ending in the Niagara Frontier with its famous fort and falls. In between, the photographic tour de force visits every region of the state, documenting in more than 300 color photographs each area's distinctive structures.
Readers will visit the grand dwellings of presidents (Martin Van Buren, Theodore Roosevelt) and industrialists (Vanderbilts, Rockefellers), as well as modest homes of activists like suffragist Susan B. Anthony and abolitionist John Brown. There are dramatic views of engineering feats like the soaring neo-Gothic towers of the Brooklyn Bridge. The book offers new views of famous buildings, like the Chrysler Building, America's favorite Art Deco skyscraper, and introduces readers to more hidden treasures, like Mark Twain's charming octagonal study in Elmira and the tucked-away Garrett Memorial Chapel overlooking Keuka Lake. Historic New York covers structures reflecting the state's early history as a Dutch colony to avant-garde post-Modern designs. The oldest site featured is the Kingston Senate House, constructed as a private home in 1676 and briefly the meeting place of the State Senate during the Revolutionary War. The newest site is Bard College Performing Arts Center, designed by Frank Gehry and completed in 2003.
Olenick's wife Sheri Olenick, who has worked as producer and coordinator for the book, says "It's been a a wonderful adventure! We've covered thousands of miles in New York State, and it's been rewarding, fun, and even surprising. Now that it's done, I'm looking forward to some weekends at home."
Historic New York
is published by the Landmark Society of Western New York. The 224-page hardcover will be available in September, 2006. For more information or to purchase advance copies, contact the Landmark Society of Western New York.
Andy Olenick Wins Preservation League Award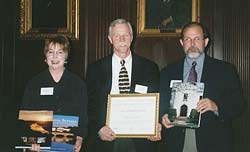 Rochester's Andy Olenick and Richard Reisem Honored for Excellence in Preservation For the past decade, photographer Andy Olenick and writer Richard Reisem have teamed up to capture and celebrate the region's outstanding architectural and cultural heritage in a series of lavishly illustrated, award-winning books. Recently that labor of love was honored as the pair received the prestigious Individual Award for Excellence in Preservation Publications from the Preservation League of New York State. Presented during the League's annual awards ceremony in Manhattan on May 14, the award recognizes the outstanding work and selfless dedication that has made these publications possible. Two of their books, 200 Years of Rochester Architecture and Gardens (1994) and Erie Canal Legacy (2000), are published by the Landmark Society of Western New York. Proceeds from these popular works, which have sold between 13,000 and 15,000 copies each, are donated to the Landmark Society. A third best-seller, Classic Buffalo (1999), is published by Canisius College. Olenick, an established commercial photographer, together with Sherri, his wife and business partner, devoted years of work and travel to each book. Altogether, the three books have more than 600 photographs, although numerous additional sites were recorded. To optimize the dramatic impact of each photograph, Olenick visited each site several times to take test shots and to determine the right time of day and best season for each photo. Reisem, a retired Kodak public affairs executive, combined his writing skills with an absorbing interest in architecture into a stellar post-retirement career. He expanded his knowledge of Rochester, spent innumerable days in Buffalo and visited more than 100 communities along the Erie Canal in order to prepare the lively and informative text.